A New Challenge Around Every Curve!!!
Located in the small town of Atwater California, Rancho Del Rey  a semi private 18-hole, par 72 parkland golf course.  Rancho was designed by Bob E. Baldock and offers a challenge to golfers of any level.  We have a full driving range and two practice putting greens to tighten up that short game.  Located in the clubhouse is The Handicap Café and Lounge.  Whether you're looking for a pleasant place to have lunch, or need a cold drink at the turn, our friendly staff is here to serve you!  Book your tee time today and enjoy the Rancho Del Rey experience!!!
Event Calendar
Please check our FaceBook page for course status updates due to tournament play.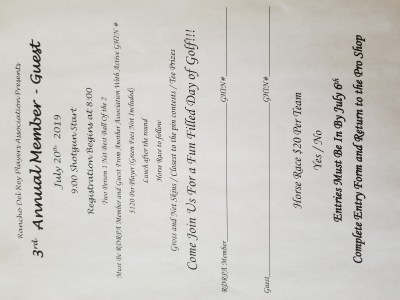 June:
June 16th:  Happy Father's Day
June 22nd:  PWGA Ladies Playday 7:30 Tee Times Call, For Tee Times
July
July 1st:  SIRS 8:00 Shotgun Start, Course Closed
July 4th:  Happy Independence Day (Stay Safe)
July 9th:  Rancho Del Rey Senior Hot Dog Open 9:30 Shotgun Start, Call For Tee Times   
July 13th:  PWGA Ladies Playday 7:30 Tee Times, Call For Tee Times
July 20th:  RDRPA Member-Guest Tournament, Call For details as far as signups and tee times before and after the tournament
July 26th:  Rancho Del Rey Friday Night Pizza and Pars Tournament 4:30 (Shotgun or Tee Times TBA) 
July 27th:  Merced Realtors 12:00 Shotgun, Course Closed 
Are you over the age of 50 and enjoy playing golf? Come join us every second Tuesday of the month for our "Senior Hot Dog Open". Each month we play a fun format in an event that is just for men and women over 50. The entry fee for the tournament is a reasonable **$20 (non Rancho Del Rey players are responsible for their own green fee and cart) which includes the tournament, prizes, drawing and hot dog lunch–hot dog, chips and a soda. If you don't have a handicap that's ok too because we will figure one out for you. 
Coming July 26th:  Rancho Del Rey Friday Pizza and Pars.  Come Join the fun as we are going to have our first monthly Friday evening event. There will be a 9 hole tournament (format TBA) with prizes.  $20 per person will get you the tournament, prizes, and pizza. AS AN ADDED BONUS WE WILL HAVE KARAOKE AND THE BAR WILL BE OPEN.  Come join the fun on Friday July 26th.  The signup sheet will be up in the pro shop shortly.