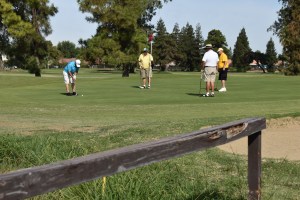 Welcome To The Rancho Del Rey Seniors Golf Club
Our purpose is to give Rancho Del Rey golfers age 50 and older more opportunities to play together as seniors. Membership in the Rancho Del Rey Seniors Golf Club includes your NCGA membership and an active GHIN Handicap number. Tuesday will be Seniors Day (See Tournaments).
For those of you who over 50 we will have our first "Fun Play Day" on November 5th. This will for now be open to anyone over 50, but after January 1st will only be open to Rancho Del Rey Senior Club members. There is a $5 buy in, we will be playing a net individual format and tee times will start tentatively at 8:15. If you haven't already done so, sign up for The Rancho Del Rey Seniors Club using the gold envelope with the yearly dues at $50 which gets you all the Senior Club membership advantages. Come on and sign up now.
Tournaments:
**The Hot Dog Open:  Each Second Tuesday Of The Month
** 1st, 3rd and 4th Tuesdays Of The Month Will Be RDR Senior Golf Club "Playdays"     With A $5 Individual Net Game Open Only To RDR Seniors Members
**Fun Format Tuesday Tournament On Months That Have 5 Tuesdays
**Saturday Monthly Tournament For Those Members Who Cannot Play Tuesdays
**Senior And Super Senior (Members Over 70) Rancho Del Rey Seniors Golf Club     Championship Tournament To Determine Club Champions
**Play In Dedicated Senior NCGA Qualifiers and NCGA Tournaments (tournament     eligibility dependent on the NCGA parameters for that tournament)
**Once A Quarter "Road Trip" To Other Golf Courses To Play As A Group Or With     Other Senior Organizations.
Cost:
$50 Per Year Rancho Del Rey Seniors Golf Club Membership Which Includes Your NCGA Dues
Use The Gold Envelope Located By The NCGA Computer
Optional:  Add $65 For RDRPA Full Membership:  Add $26 For RDRPA Associate RDRPA Membership (Does not allow for qualifying in RDRPA NCGA Qualifying Tournaments–Eligibility to play in RDRPA fun tournaments only)