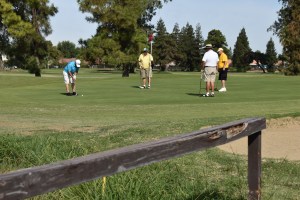 Welcome To The Rancho Del Rey Seniors Golf Club
Our purpose is to give Rancho Del Rey golfers age 50 and older more opportunities to play together as seniors. Membership in the Rancho Del Rey Seniors Golf Club includes your NCGA membership and an active GHIN Handicap number. Tuesday will be Seniors Day (See Tournaments). Check out our website at https://ranchodelreyseniorsgc.memberplanet.com.
If you haven't already done so, sign up for The Rancho Del Rey Seniors Club using the gold envelope with the yearly dues at $50 which gets you all the Senior Club membership advantages. Come on and sign up now.
Tournaments:
**The Hot Dog Open:  Each Second Tuesday Of The Month
** 1st, 3rd and 4th Tuesdays Of The Month Will Be RDR Senior Golf Club $5 Senior Days, With A $5 Individual Net Game Open Only To RDR Seniors Members
**Fun Format Tuesday Tournament On Months That Have 5 Tuesdays
**Senior And Super Senior (Members Over 70) Rancho Del Rey Seniors Golf Club     Championship Tournament To Determine Club Champions
**Play In Dedicated Senior NCGA Qualifiers and NCGA Tournaments (tournament     eligibility dependent on the NCGA parameters for that tournament)
**Once A Quarter "Road Trip" To Other Golf Courses To Play As A Group Or With     Other Senior Organizations.
Cost:
$50 Per Year Rancho Del Rey Seniors Golf Club Membership Which Includes Your NCGA Dues
Use The Gold Envelope Located By The NCGA Computer
Optional:  Add $65 For RDRPA Full Membership:  Add $26 For RDRPA Associate RDRPA Membership (Does not allow for qualifying in RDRPA NCGA Qualifying Tournaments–Eligibility to play in RDRPA fun tournaments only)
All Rancho Del Rey Players Association as well as Rancho Del Rey Seniors Golf Club tournaments and events have been postponed because of the Corona 19 Virus.  We will have more information for you soon.
Events:
Rancho Del Rey Seniors Golf Club
2020 Calendar
January:
Tuesdays January 7, 21 and 28:  $5 Senior Day
Tuesday January 14:  January Senior Hot Dog Open
Saturday January 25:  RDR Seniors Golf Club Saturday Tournament
February:
Tuesdays February 4, 18 and 25: $5 Senior Day
Tuesday February 11:  February Senior Hot Dog Open
Saturday February 15:  Rancho Del Rey Seniors Golf Club Road Trip to Pacific Grove
March:
Tuesdays March 3,17, and 24: $5 Senior Day
Tuesday March 10th:  March Senior Hot Dog Open
Tuesday  March 24:  NCGA Individual Net Tournament Qualifier (Two Individuals Qualify) 
Tuesday March 31: Special $5 5th Tuesday Senior Day
April:
Tuesdays April 7, 21 and 28: $5 Senior Day
Tuesday April 14:  April Senior Hot Dog Open
Saturday April 25:  RDR Seniors Saturday Tournament
May:
Tuesdays May 5, 19 and 26:  $5 Senior Day
Tuesday May 12:  May Senior Hot Dog Open
Saturday May 23:  RDR Seniors Saturday Tournament
Thursday May 28-Saturday May 30:  RDR Morro Bay Getaway
June:
Tuesdays June 2, 16 and 23:  $5 Senior Day
Tuesday June 9:  June Senior Hot Dog Open
June (Continued)
Saturday June 20:  NCGA 4 Ball Net Tournament Qualifier (One Two Person Team Qualifies to advance to NCGA 4 Ball Tournament)
Tuesday June 30: Special $5 5th Tuesday Senior Day Tournament
July
Tuesdays July 7, 21 and 28:  $5 Senior Day
Tuesday July 14:  July Senior Hot Dog Open
Saturday July 25th:  RDR Seniors Saturday Tournament
August
Tuesday August 4, 18, and 25:  $5 Senior Day
Tuesday August 11:  August Senior Hot Dog Open
Saturday August 22:  RDR Seniors Saturday Tournament
September
Tuesday September 1, 15, and 22:  $5 Senior Day
Tuesday September 8:  September Senior Hot Dog Open
Saturday September 19:  RDR Senior Saturday Tournament
Tuesday September 29:  Special $5 5th Tuesday Senior Day
October
Tuesday October 6, 20 and 27:  $5 Senior Day
Tuesday October 13:  October Senior Hot Dog Open
Tuesday October 20, Wednesday October 21:  Senior Club Championship 
Saturday October 25th:  RDR Senior Saturday Tournament
November
Tuesday November 3, 17 and 24:  $5 Senior Day
Tuesday November 10:  Senior Hot Dog Open
Saturday November 21:  RDR Seniors Saturday Tournament
December
Tuesday December 8:  Senior Hot Dog Open (Senior $5 Senior Days TBA)